API 6D Floating Ball Valve
API 6D Floating ball valves are used primarily in oil and gas, chemical, and petrochemical services, etc., that provide positive shut-off while minimizing pressure drop.
All floating ball valves are manufactured in strict accordance with all applicable international standards: API 6D, API 608, and ISO 17292 (BS 5351), NACE MR 0175, and ANSI.
Every floating ball valve is tested and documented according to the API 598 and API 6D and EN 10204.
Size

1/2"-8"

Pressure Rating

ANSI Class 150-2500
Standard Specifications
| | |
| --- | --- |
| Design | API 6D/API 598/ISO 17292/BS5351 |
| Shell Wall Thickness | ANSI B16.34 |
| Pressure Temperature Rating | ANSI B16.34 |
| Pressure Test | API 6D/API 598 |
| Face-to-Face Dimensions | ANSI B16.10 |
| End Flange Dimensions | ANSI B16.5 |
| Top Mounting Pad | ISO 5211 |
| Visual Casting Inspection | MSS SP-55 |
| Fire Safe Test | API 607/API 6FA |
| Material Requirement | NACE MR 0175 |

Structure Feature
Floating ball valves are designed in accordance with API 6D, API 608, or ISO17292 (BS5351) for ANSI Class ratings 150 to 2500. Nominal sizes range from 1/2" to 8".
Floating ball valves have been designed for use with various combinations of materials, such as carbon steel, low-carbon steel, stainless steel, special alloys, monel, Inconel, etc.
Body Joint Construction
The one-piece unibody end entry design, graphite ring or O-ring, and Viton (upon request) seals ensure absolute seal integrity. The two-piece bolted body designs include a tight-tolerance overlapping metal fit between the body and the adapter to minimize any possibility of movement due to pipeline stress. This gasket is encapsulated by the body and adapted on all four sides. Body and adaptors are dimensioned for metal contact to ensure correct gasket crush.
Blow-Out Proof Stem
The stem is made separately from the ball and has an anti-blow-up design with suitable PTFE and graphite rings and an antistatic device. The lower end of the stem is designed with an integral collar to be blowout-proof. It also functions as the backseat for the assured stem (Fig. 1).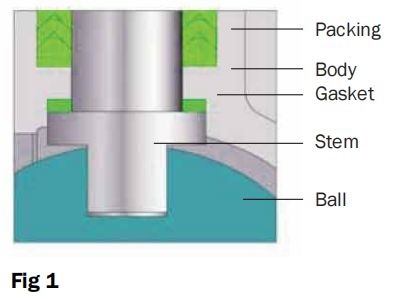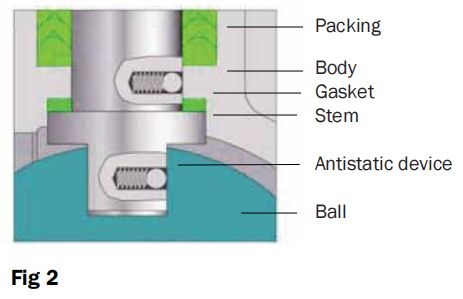 Floating ball valve blow-out-proof stem
Floating ball valve anti-static device
Anti-Static Device
All flanged floating ball valves include dual grounding systems from stem to ball and stem to body. An anti-static feature is provided to ensure electrical continuity for assured stem sealing. (Fig. 2)
Top Works
The stem head design provides mounting of the lever handle in parallel to the flow passage. A facility for mounting a locking device for the prevention of accidental vake operation is provided (Fig. 4).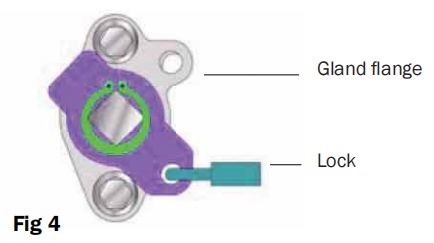 Floating ball valve locking device design

Contact between Stem and Valve Shell
The fire-safe design features a secondary metal-to-metal seat, which renders the valve fire-safe.
An integral metal lip in the body and the configuration of the soft seat are designed to prevent the softening downstream seat from being forced into the port in the event of a fire.
When the seat is totally sublimated in a fire, the ball moves and rests against the lip, forming a metal-to-metal seat, thus ensuring leak-tightness. End connectors for inserts have spouted ends to ensure concentricity and correct alignment of the ball.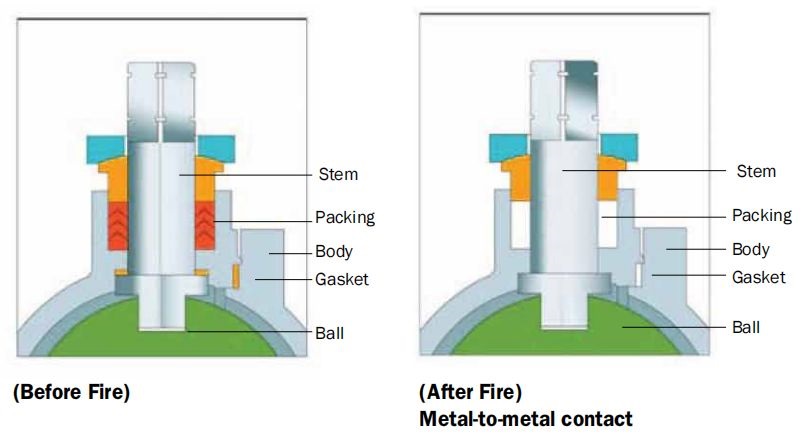 Floating ball valve fire safe design for stem seal

Contact betwee ball and valve body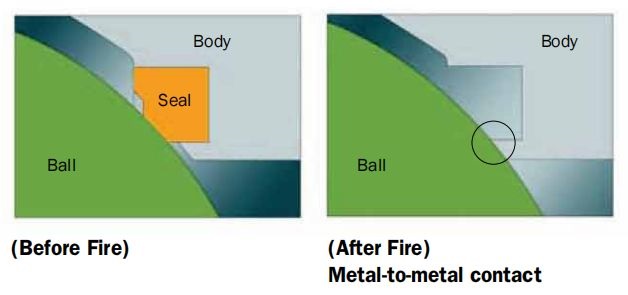 Contact shell coupling flanges of split body design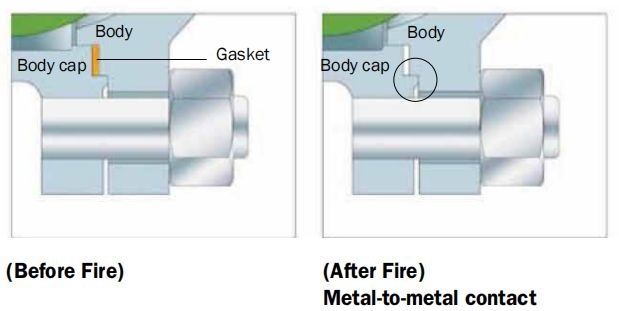 Online Inquiry